DOCK LADDER
• Aluminum construction

DOCK BENCHES
• Cedar planks to match dock
• Aluminum frame
• Strong design

 DOCK TABLES
• Adjustable height
• Accommodates an umbrella
• Cedar planks to match dock
• Aluminum frame
• Strong design
DOCK BUMBER GUARDS
• Polyethylene construction
• 3 feet of adjustable height
• Available in vertical or horizontal design
• Available in white or black
• Easy to fasten to side frame on dock

PADDLE BOARD
& KAYAK RACK

WATER JACKS
• Deep Water Jacks & Shallow Water Jacks
• Easily adjust dock height without getting into the water
• Sold in pairs

DOCK WHEEL KIT

WHEEL CHAIR
ASSESSABLE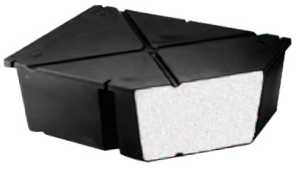 FLOATING DOCKS
Marine Master manufactures the highest quality floating docks on the market.
Marine Master Docks are backed by the industry's only 15 year warranty and they exceed the standards set by the United States Army Corps of Engineers.
The molded black outer shell is seamless, made of polyethylene resin with UV ray inhibitors; all floats are injected with the highest quality low water absorption EPS foam.
Floating Dock
Floats are available in a variety of sizes and depths to accommodate any size or configuration of dock.
Floating docks may be preferable when:
• Lakes/rivers with fluctuating water levels
• Shorelines where water depth drops off quickly
• Swimming platforms